Friday 3rd February | 12:00 | Hosted by Royal Perth Yacht Club
---
To be held on Friday, 3rd February 2023 at the Royal Perth Yacht Club, the 2023 Warren Jones Gala Luncheon will include welcome cocktails provided by Grumpy Fish Distillery, freshly shucked oysters by local legend Jerry Frazer, follwed by a three-course meal accompanied by premium free flowing beverages courtesy of Paul Nelson Wines and Gage Roads Brewing Co.
A keynote address will be provided by Ben Pronk, Managing Partner of Mettle Global, former SAS Commanding Officer, an adjunct faculty member at the Australian Graduate School of Management, a Patron of the Military Art Program Australia and co-host of the Unforgiving60 podcast.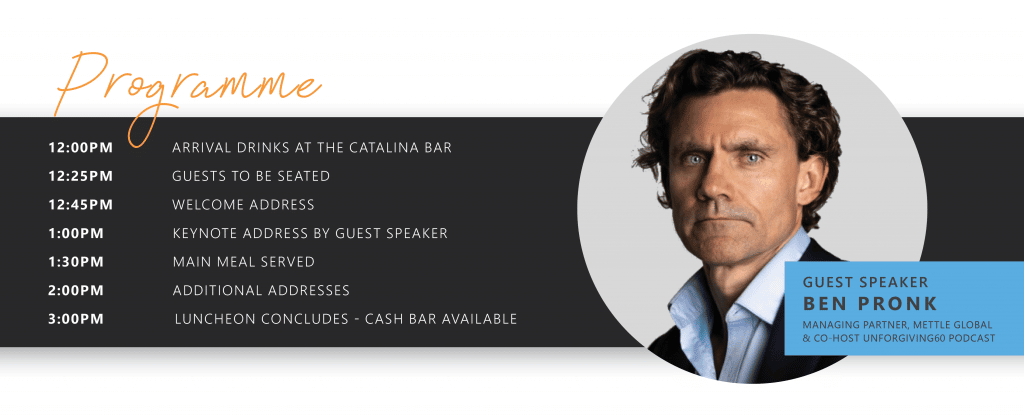 ---
TICKETS ON SALE NOW!
Tickets are strictly limited. Book your tickets now to avoid disappointment.
$190 per ticket or $1,900 per table of 10 guests.
Tickets on sale now until Tuesday, 24th January 2023 or until sold out.
Please use the button above to purchase your tickets. If the button does not appear in your browser, click here to go to the TryBooking page.
---
The 2023 Warren Jones Gala Luncheon coincides with the final day of racing of the 2023 Warren Jones International Youth Regatta, hosted by Royal Perth Yacht Club and sailed in Matilda Bay. The finals racing is set to commence from 3pm and the onshore presentations at approximately 7pm. Read more about the history of the Warren Jones International Youth Regatta here.
---

---
---