IMPORTANT ANNOUNCEMENT:
2022 WARREN JONES EVENTS – NEW DATES
FROM THE REGATTA CHAIRMAN, ANDY FETHERS
---
THE WA TOUR & DEVELOPMENT PROGRAM
Back again for the second year running, the Warren Jones Foundation is once again supporting the WA Tour & Development Program. The WA Tour will see a series of three-match racing events, targeted to youth sailors, sailed over January and February in Western Australia. The WA Tour is structured as a short series with aggregated scoring, overall prize money and handicaps to encourage fierce competition, dedication, hard work and skill development for local youth sailors during this second, irregular Perth summer. Additional information and applications will open in late October 2021. More Info >> www.swanriversailing.com/wa-tour

---
TOUR EVENTS IN 2022
Featuring in the 3-event series in 2022, will be Royal Freshwater Bay Yacht Club's JESS Match Cup followed by the Colin Mullins Youth Regatta, hosted by Royal Perth Yacht Club and wrapping up with the Perth Youth Cup, supported by the Warren Jones Foundation, hosted by Royal Freshwater Bay Yacht Club. Results from these events will be aggregated with overall prize money awarded upon the conclusion of the final event on Friday, 11th February 2022 at the Royal Freshwater Bay Yacht Club.

---
THE 2022 PERTH YOUTH CUP
Although the hope and plan are to run the Warren Jones International Youth Regatta in 2022, the realistic outcome will be to run a state and/or national regatta in its' place again this year. The Warren Jones Foundation have thrown their full support behind the project again in 2022, as well and supporting the resurgence of the ever-popular Warren Jones Gala Luncheon, to be held on the final day of racing of the Perth Youth Cup on Friday, 11th February 2022.
DATE CHANGE – DATES HAVE MOVED BACK BY 1 WEEK
Unfortunately due to a venue availability issue, the Warren Jones event in 2022 has needed to be pushed back by one week and will now be held on Tuesday 8th – Friday 11th February 2022 instead of the original dates of 31 January to 04 February. In order to avoid a direct clash in dates, the Royal Sydney Yacht Squadron has provided sincere, next-level support and has also moved their Hardy Cup back one week in 2022 to 13-17 February. We are so grateful and thankful to the team at the Royal Sydney Yacht Squadron, especially the efforts by Commodore Christian Brook and Rear Commodore Karen Gojnich, for their support and assistance with this matter. The fact that our organisations can work together for the greater good of match racing and international youth sailing events in our country is something we are sincerely proud of. Royal Sydney Yacht Squadron will officially announce the date change of the 2022 Hardy Cup in the coming days.
2022 MATCH RACING EVENTS IN THE REGION
2022 Perth Youth Cup – Supported by the Warren Jones Foundation
Hosted by Royal Freshwater Bay Yacht Club (WA)  ||  Tuesday 08 – Friday 11 February 2022
2022 Hardy Cup
Royal Sydney Yacht Squadron (NSW)  ||  Sunday 13 – Thursday 17 February 2022
2022 HARKEN Youth International Match Racing Cup
Royal New Zealand Yacht Squadron (NZL)  ||  Wednesday 23 – Sunday 27 February 2022
2022 Centreport Youth International Match Racing Champs
Royal Port Nicholson Yacht Club (NZL)  ||  Wednesday 02 – Sunday 06 March 2022
---
THE GALA LUNCHEON IS BACK
Thanks to the kind support of the Warren Jones Foundation, the ever-popular Warren Jones Gala Luncheon will be back in 2022! The date is pinned, the venue is confirmed and tickets are on sale NOW! Additional details, including a guest speaker, will be announced in due course. Tickets are strictly limited, don't miss out!
Friday, 11th February 2022 at the Royal Freshwater Bay Yacht Club. Pre-lunch drinks from 12noon, sit down for 12:30, followed by on-water spectating of the finals racing of the 2022 Perth Youth Cup from 15:30 onwards. Ashore after the finals will be the presentations for the regatta and also the overall 2022 WA Tour.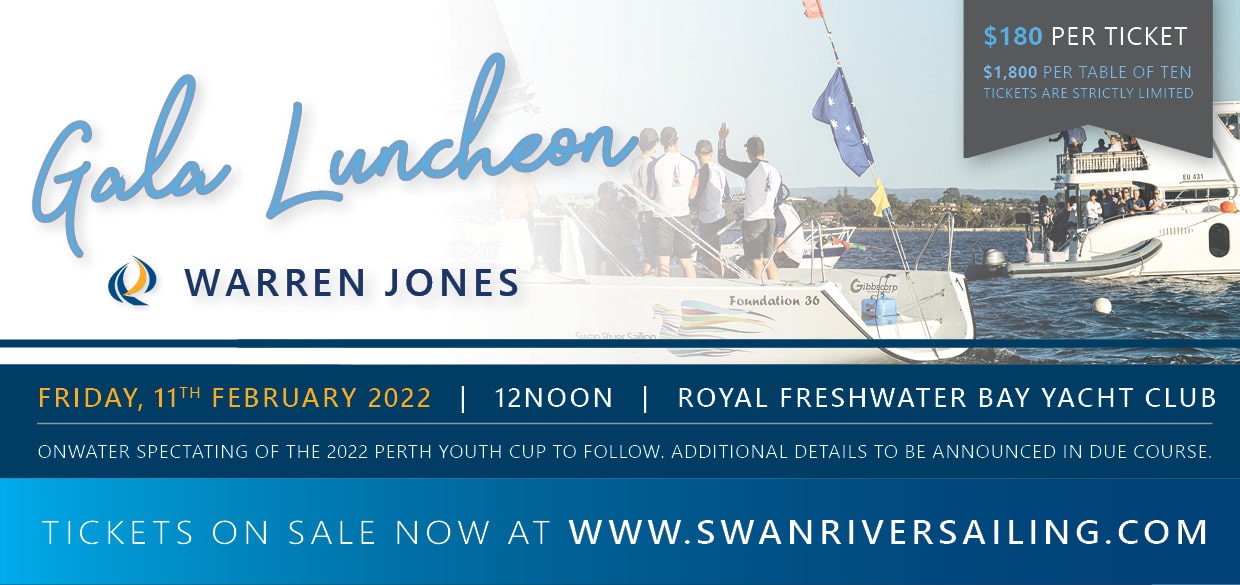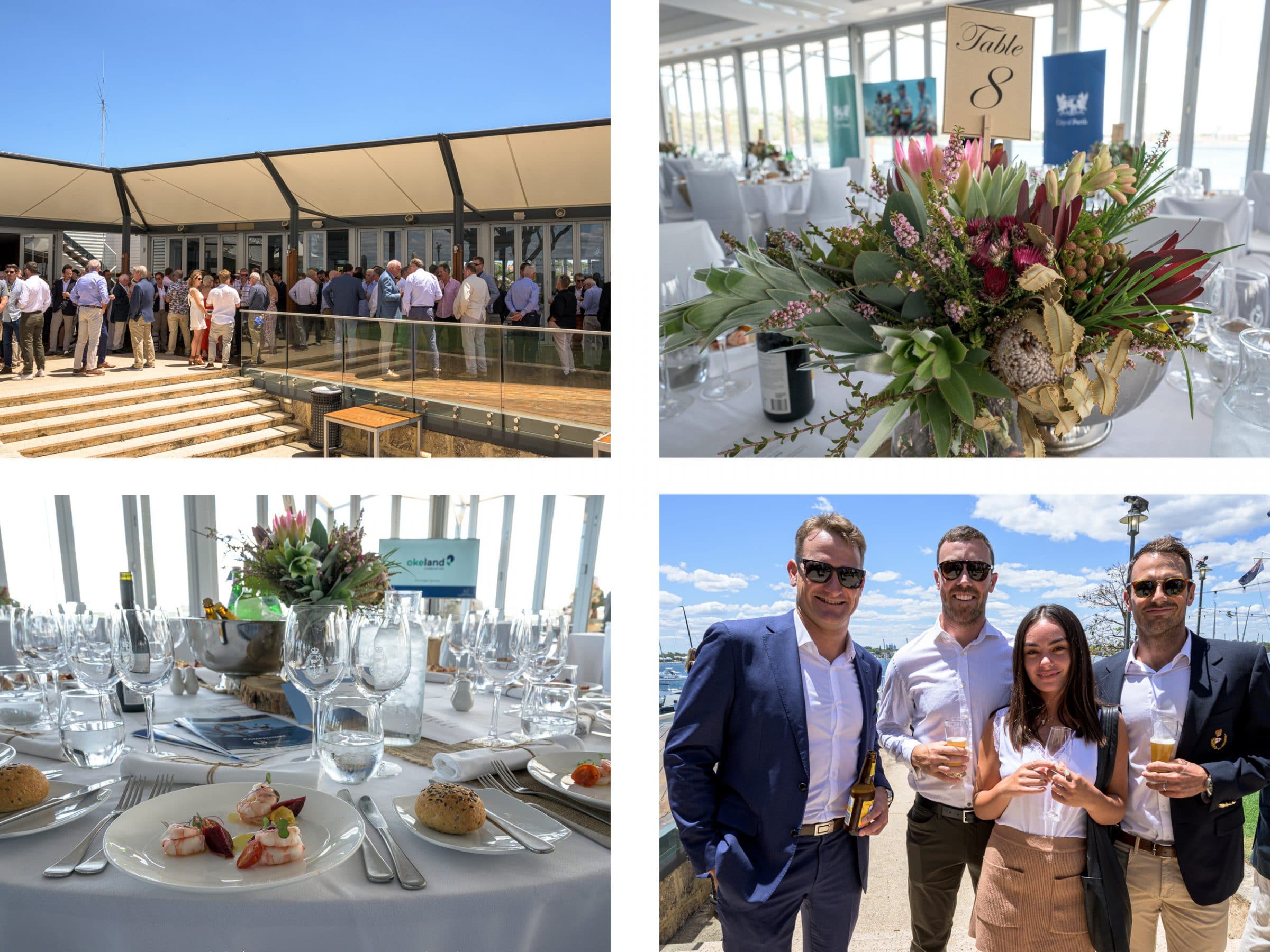 We are in exciting times as we head towards 2022. With the season well and truly underway, we are looking forward to seeing lots of familiar faces around, on the water, and (hopefully) at our events!
Stay safe, stay well and keep sailing!
Best Regards,
Andy Fethers
Executive Officer, Swan River Sailing
Regatta Chairman, Warren Jones Regatta
Regional Manager, Australian Sailing – WA
andy@swariversailing.com  |  +61 8 9386 9488